A tale of two shows: a report from Busworld Southeast Asia 2022
|
By Bradley Osborne - 4th November 2022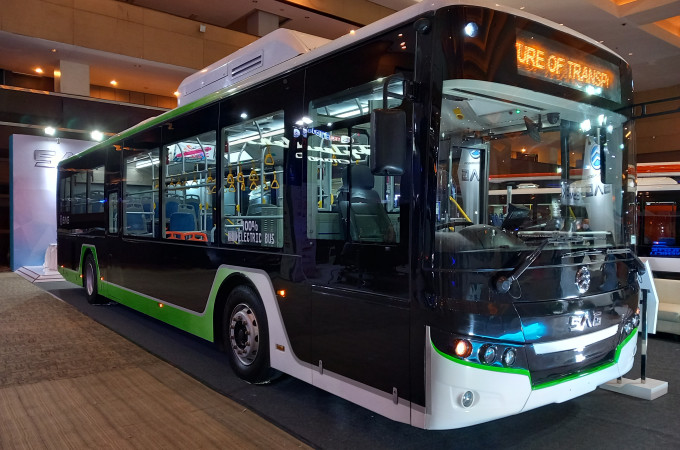 Indonesia – Even in an age of mass, instant communication and extensive transport networks, nations remain obstinately heterogeneous, even within their sharply-defined borders: the needs and wants of the people and the market vary from place to place, according to the particulars of the local economy and geography. The division between the urban and the rural remains in most places. There are perhaps very few countries in the world more heterogeneous than Indonesia, home to the second-largest metropolitan area in the world; yet also a country with massive areas of wilderness largely untouched by global civilisation. Jakarta, the capital and megacity, is the centre of an urban area with over 35 million people, according to the most recent estimates; and yet only 56.64% of the country's approximately 275 millions live in towns and cities.1 Its over 17,000 islands are home to a large number of different ethnic groups, separated by jungle and mountain as well as by sea. 
It is only natural, then, that we should find at Busworld Southeast Asia – held in Jakarta between 5-7 October – a multiplicity of concerns and priorities; and while these are not directly in contradiction with each other, they are nevertheless a reflection of the divergent demands of the Indonesian market. In one part of the hall, delegates spoke with urgency about the need to decarbonise transportation and reduce congestion in the capital; elsewhere, visitors saw glossy diesel coaches for taking tourists out of the cities and into the farthest corners of the archipelago. 
Electrification of public transport in Jakarta 
Over a year ago, PT Transportasi Jakarta ("TransJakarta"), the municipal body responsible for organising public transportation in the Jakarta metropolitan area, announced a target of 10,000 electric buses in service by 2030, citing the need to reduce urban pollution and traffic congestion. More recently, it has announced that every bus on the road in Jakarta will be electric in 2030, and at Busworld it gave some indication as to how it might achieve this goal. 
In part, this involves disincentives for private forms of transport. Restrictions to passenger car use – which include permitting residents to drive only on alternating days, depending on whether the last digit on their license plate is odd or even – are already in place. Bus ridership in Jakarta peaked pre-pandemic at around one million per day, but TransJakarta hope to push this figure as high as four million. Initiatives such as "Jak Lingko", which allows passengers to pay for multiple forms of transport through a single vendor (i.e., a dedicated payment card or an app), are intended to simplify city journeys and cap the cost of public transport fares. 
However, TransJakarta will also take advantage of new incentives recently put in place by the Indonesian government. Tax exemptions will apply to electric vehicles in order to encourage uptake. In addition, type approval for vehicle conversions will be regularised across the country's provinces, making it easier for operators to convert their existing diesel vehicles to electric. Retrofitting old buses is the main method TransJakarta will employ to achieve its electrification target, using powertrain components supplied by UK firm Equipmake. Starting with low-entry 8- and 12-metre buses, TransJakarta aims to work through every segment, not only decarbonising its fleets but also extending their service life. 
The number of buses in TransJakarta's fleet stands at 4,357 buses. These are served by 18 operators on 188 routes in the metropolitan area. Average daily ridership stands at 535,735, well below the pre-COVID peak of over a million. By 2030, TransJakarta aims to have 10,047 buses on the road, all of them electric. It is a remarkably ambitious target by any standards, and especially so considering there are only 56 electric buses currently in service in Jakarta. 30 of these are operated by PT Maya Saribakti, who stated that it has 10 charging stations to serve them at its depot. If one charger is to serve three buses, then there would need to be 3,349 of them to support the number of electric buses TransJakarta aims to have by 2030.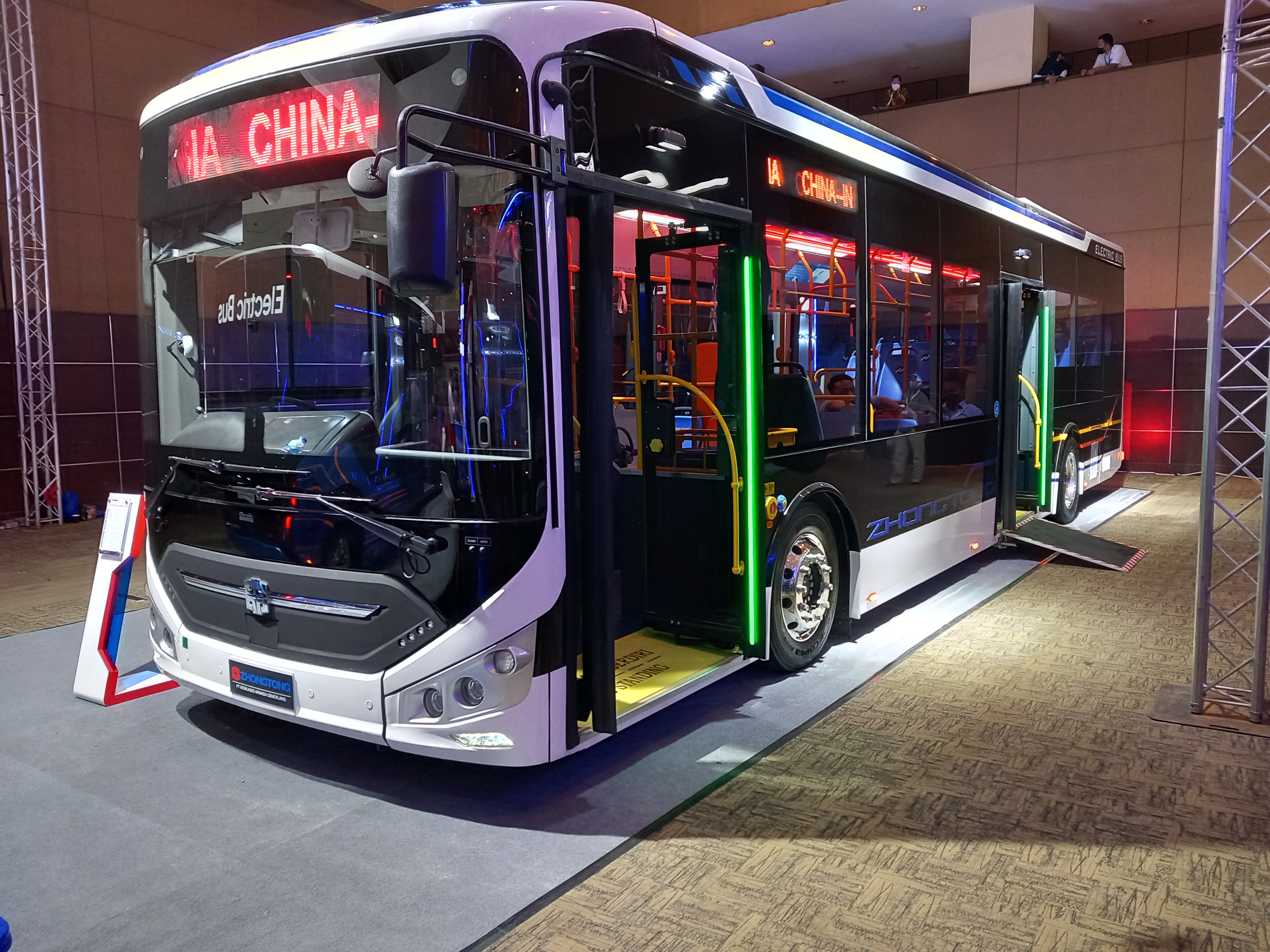 12-metre Zhongtong electric bus
Tourism and the coach segment 
According to government statistics, Indonesia received 15.8 million visitors in 2018 and, in 2019, revenues from tourism contributed USD19.7m to GDP. For many tourists, Jakarta is a gateway to the country and not a destination in its own right. Instead, visitors travel onwards to the island of Bali, the temples of central Java, and the wildlife reserves of Sumatra and Borneo. Without an extensive rail network across many of the major islands, tourists rely on buses and coaches to travel between hotspots. 
Restrictions on domestic and international travel due to the COVID-19 pandemic reduced tourist traffic to almost nil in the past two years, but there are clear signs that the sector is already in recovery. One such indication is sales figures for the first half of 2022, which show that sales of buses and coaches increased year-on-year by a whopping 85.8%. The breakdown shows that most of these sales were of chassis produced by Hino, Fuso, Mercedes-Benz and Isuzu. 
While the figures are not broken down by segment, it was clear from the show floor that the local bus manufacturers were putting their money on the long-distance coach. Tentrem of Malang showcased the 'Avante H9', a coach built on a Mercedes O500 RS chassis. One more Mercedes-based coach was on display, alongside Hino and Isuzu-based coaches, at Laksana's stand, a company based in Ungaran. Adi Putro Group, also based in Malang, displayed four 'Jetbus' coach models, built on Volvo, Mercedes, Scania, and Hino chassis. New Armada of Magelang showcased its new 'Skylander' coach, built on a Hino chassis. 
That is not to say that there were no buses on display at these stands; only a few, however, were electric. For example, Laksana showcased a 'City Line 3' with a powertrain supplied by BYD. But the majority of the electric buses at the show were entirely of Chinese make. Zhongtong Bus of Liaocheng, Shandong had two buses on display which are distributed by local firm PT Mobilindo Armada Cemerlang. Both models – 6-metres and 12-metres – are powered by CATL batteries, providing ranges of more than 250 kilometres. The vehicles are currently imported from China, but Zhongtong plans to start local assembly of the buses in the near future. Also on display were two buses by Golden Dragon, with specifications very similar to those by Zhongtong. 
One notable exception, however, was the 'Velocity W5', a 12-metre battery-electric bus presented by Tentrem. This low-floor vehicle had the special distinction of being the only model with a locally-produced chassis: state-owned rolling stock manufacturer PT Industri Kereta Api ("INKA") reportedly produced the electric driveline, which incorporates 350-kWh batteries supplied by Jakarta-based firm PT International Chemical Industry ("ABC Batteries"). The bus will operate at the upcoming 2022 G20 Bali Summit.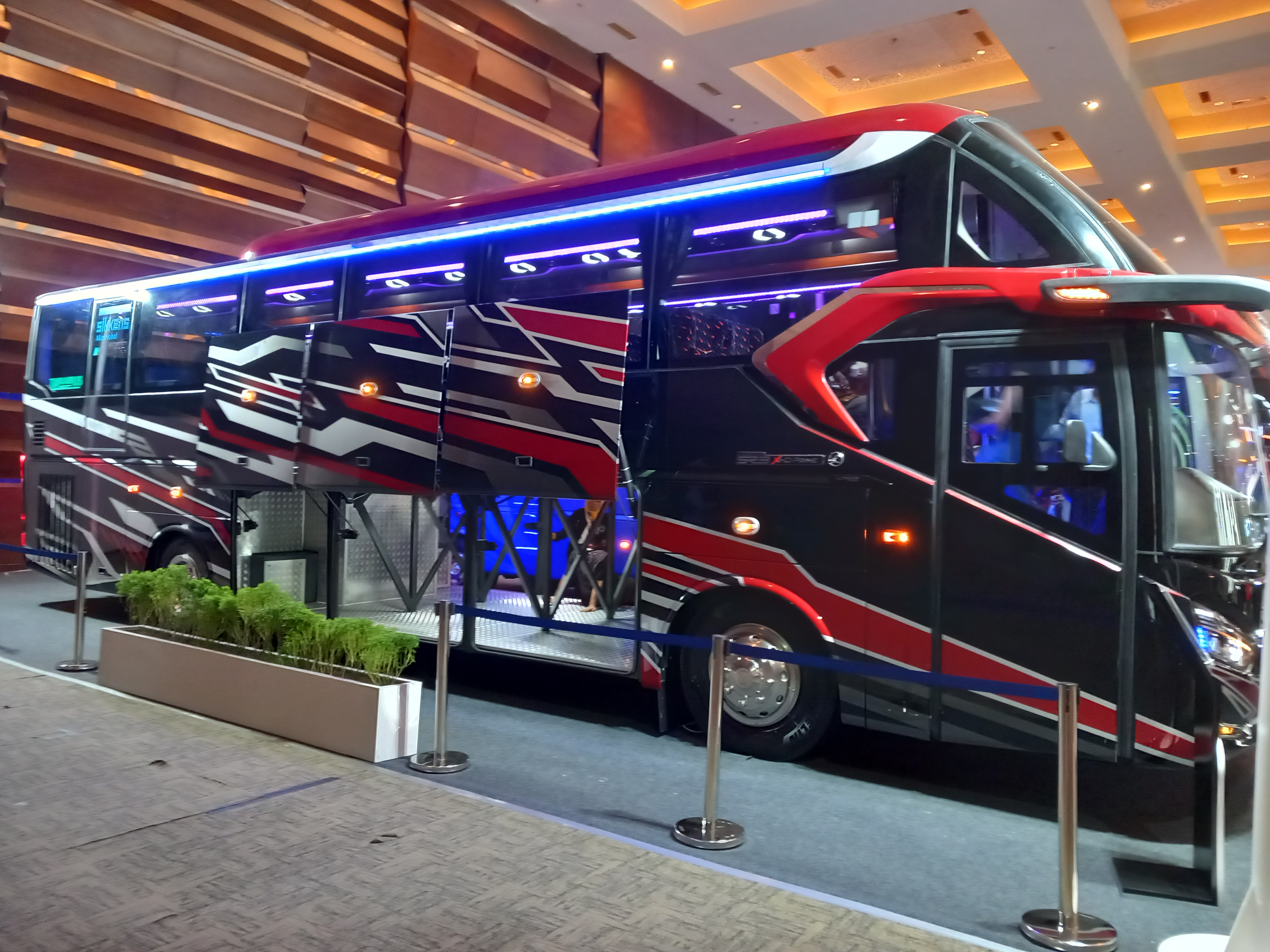 The Legacy SR3 XHD on Hino chassis by Laksana
Barriers to electrification in Indonesia 
Many of the problems which Indonesia faces in converting its bus fleets to electric are common to every nation. The limitations of battery-electric technology prevent electric vehicles from performing the same jobs to the same level as diesel equivalents; and this is especially the case for coaches, which travel long distances to places often far away from urban concentrations. While Adi Putro has promised to present an electric coach in 2024, it is difficult to envisage a large scale rollout of zero-emission coaches in the country before the end of the decade. Growing numbers of electric vehicles will also put extra pressure on the grid. 
There are financial limitations as well. Issues discussed at the conference included the lack of long-term, scalable financing options for procuring electric vehicles. Converting whole fleets to electric requires large, risk-tolerant capital investment, but lenders are less willing to finance anything beyond small-scale pilots, and naturally they prefer lower risk and lower cost plans. 
Developing countries like Indonesia face additional challenges. Lack of knowledge about electric vehicle technology and the infrastructure and servicing needed to operate them is a major barrier to homegrown initiatives. Moreover, even when incentives are offered, political support can be lacklustre for large-scale projects.  
These are some of the many obstacles which Indonesia must overcome if it is to realise its ambitions. In the meantime, its domestic manufacturers will continue to follow the market, which appears to largely be in the resurgent tourist sector and the hard-to-decarbonise coach segment. It is likely that the priorities of the city and of the provinces will continue to diverge. 
1 The estimate of Jakarta's current population comes from the 18th edition of Demographia World Urban Areas, published in July 2022. Percentages of national populations living in urban areas are provided by Our World in Data, a research group based at the University of Oxford.