Hyzon plans expansion in Europe with purchase of Orten Group
By Jim Gibbins - 28th July 2022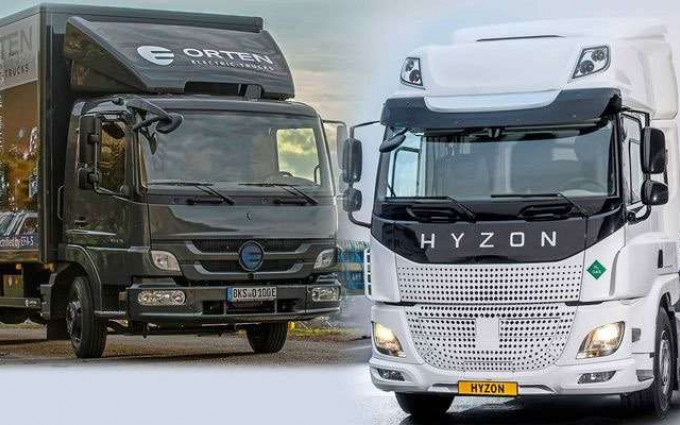 USA / Germany - June 13, 2022 saw Hyzon Motors Inc (NASDAQ: HYZN) of Rochester, New York, USA - a supplier of zero-emissions hydrogen and fuel cell powered commercial vehicles – sign a definitive agreement to acquire the Orten Group including ORTEN Betriebs GmbH (a manufacturer of truck and trailer bodies for the beverage industry) and subsidiaries, and e-truck builder, ORTEN Electric Trucks GmbH. (Since March 2020, Orten Electric Trucks has been operating a new production facility in Wittlich-Wengerohr to scale up its electrically driven refrigerated converted vehicles from 3.5t gvw vans to 18t gvw trucks).
Hyzon says that through this transaction, which it expects to conclude during the fourth quarter, 2022, it plans to establish an operational footprint and gain customer access to the attractive German zero emission truck market, including expansion of electrification and powertrain kit expertise and assembly capacity.
Hyzon states the proposed acquisition brings three fully-operational production facilities and a team of over eighty employees under the Hyzon umbrella. Hyzon says that ORTEN's employees are experienced in electrification, retrofitting, and bodybuilding, all critical elements of Hyzon's FCEV build process. Additionally, ORTEN management has extensive, long-standing customer relationships across Germany.
Complementary product lines between Hyzon and ORTEN, in combination with ORTEN's body and powertrain kits, provide a comprehensive solution for customers transitioning their fleets to zero emissions, says the company. Vehicles up to 26 tons can be converted to ORTEN's existing offering of battery electric vehicles, while the operational requirements of medium- and heavy-duty vehicles can be met with Hyzon's FCEVs.
About the German market for electric vehicles, Hyzon's statement read:
Germany is expected to be a major global market for zero-emission commercial vehicles in the coming years. The European Union recently announced a total ban on sales of combustion engine cars from 2035, and Germany offers various incentives to transition heavy vehicles off diesel, including some that provide subsidies for up to 80% of the additional investment costs of going electric compared with replacing vehicles with diesel equivalents, and even greater levels of subsidy for some public fleets.