Symbio outlines production strategy for fuel cell systems
By Bradley Osborne - 1st August 2022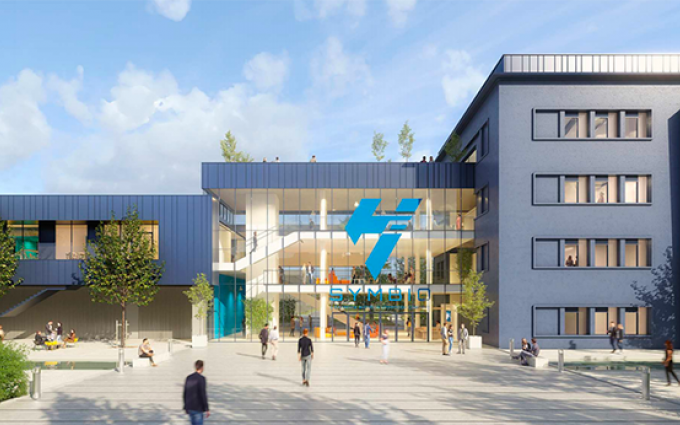 France – Symbio, a joint venture between Faurecia and Michelin for the manufacture of fuel cell systems based in Fontaine (Isère), France, has released details of its 'Hymotive' global strategy, involving the ramp up of production and research at its first Gigafactory in Saint-Fons, currently under construction. 
The French government has submitted Hymotive as an 'Important Project of Common European Interest' (IPCEI) to the European Commission. This could generate public support for Symbio from other member states in the European Union. The two aims put forward by the fuel cell manufacturer are: 
To accelerate the industrialisation and mass-production of its last-generation fuel cell systems in Saint-Fons; 

To develop and industrialise a new generation of fuel cells which will significantly increase the performance of Symbio's 'StackPacks', or fuel cell stacks, while drastically reducing unit production costs. 
The first goal hinges on the completion of a Gigafactory in the Vallée de la Chimie in Saint-Fons, near the city of Lyon, which was covered in Truck & Bus Builder in November 2021. Symbio has ambitions to make the site, named 'SymphonHy', into one of the largest production sites in Europe for fuel cell systems by pushing annual production capacity up to 50,000 units. Moreover, the new site will house the company headquarters, a research and development centre, a 'Hydrogen Academy', and a start-up incubator for supporting businesses in the green hydrogen industry. Symbio claims the buildings will be highly energy efficient, using power from renewables. Production is set to begin next year. 
With the second goal, Symbio aims to expand its total manufacturing capacity to 100,000 fuel cell systems annually by 2028, while also creating an additional 1,000 jobs. This will enable the company to meet its commitments to supplying its partners in the commercial vehicle industry: for instance, Stellantis who aims to expand its yearly production capacity of hydrogen-powered light commercial vehicles to a maximum of 10,000 units by 2024. Symbio will support Stellantis by supplying its 45-kW fuel cell systems. Another company it is contracted to assist in hydrogen vehicle production is Safra, a French manufacturer of fuel-cell electric buses. 
Symbio signs offtake agreement for green hydrogen 
Symbio also announced the signature of a Letter of Intent with renewable energy firms Compagnie Nationale du Rhône (CNR) and ENGIE for the supply of green hydrogen to the Saint-Fons Gigafactory. Symbio has agreed it will take hydrogen produced at CNR's hydroelectric plant in Pierre-Bénite, guaranteeing a supply of 3 to 4 tons every day from 2025. 
Philippe Rosier, Symbio's CEO, commented:
With this agreement, SYMBIO guarantees at the same time the hydrogen volume needed for its operations and the competitiveness of its own supply. As the first client of the future Pierre-Bénite electrolyser, SYMBIO is proud of taking part in the development of the hydrogen sector in our region.