Sono Motors unveils retrofit solar power technology for buses
By Bradley Osborne - 2nd August 2022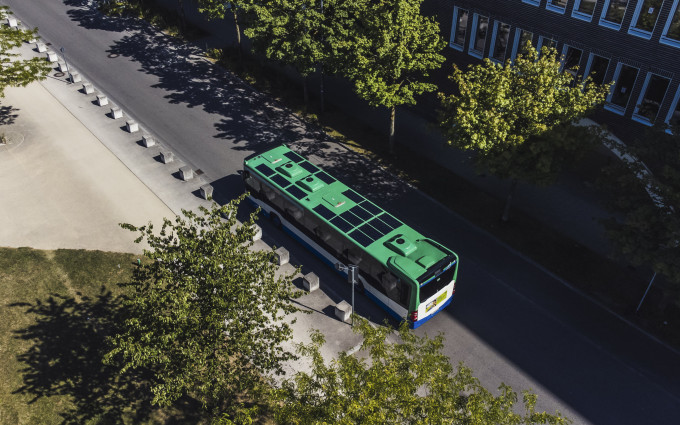 Germany – On 25 July, Sono Motors GmbH unveiled a solar-powered retrofit solution for buses, designed to reduce fuel consumption and greenhouse gas emissions, at a public event it organised called 'Celebrate the Sun'. The company also debuted the production design model of its upcoming electric passenger car, 'Sion', which is recharged by solar cells integrated in the car body. 
Sono Motors was established in 2016 in Munich, Bavaria. Its business aim was to develop and market a technology integrating solar power modules with onboard vehicle electronics and energy systems. Original equipment manufacturers who have agreed to work with Sono Motors – MAN and Chereau, for example – are testing the technology to find out what gains can be made in energy efficiency when auxiliary systems, such as air conditioning and refrigeration, are powered by the integrated solar modules. 
Now Sono Motors is showcasing a mature product, a retrofit solution called 'Solar Bus Kit', which is designed for common designs of 12-metre bus on the European market (e.g., the Citaro and Lion City ranges). The solution is turnkey, meaning that Sono Motors will install the solar modules, service them and provide remote management tools through their proprietary application ('Sono App'). 
It is a retrofit targeted at operators of diesel buses who want to reduce their greenhouse gas emissions and save on fuel. The Solar Bus Kit will partially power subsystems such as HVAC with solar energy, reducing the burden on the diesel driveline to power the whole vehicle. With roughly 1.4kW power from about 8 square-meters of solar panels mounted on the roof, the Solar Bus Kit generates enough energy to save up to 1,500 litres of diesel and eliminate up to 4 tonnes of CO2 per year. Operators will payback the cost of the retrofit in about 3 to 4 years through fuel savings, according to Sono Motors. 
Sono Motors describes itself as a "asset-light" tech company: that is to say, it owns very little real estate and capital stock, since its manufacturing is outsourced (for instance, its 'Sion' passenger car will be built in Finland by Valmet Automotive). Its business model is based on its proprietary solar technology for integrating solar modules with the vehicle and its digital services through the Sono App. The solar modules are supplied by Finnish firm Valoe Oyj. 
The unveiling of the Solar Bus Kit, alongside the solar-powered passenger car, marks the company's move – in its own words – from "prototype projects" to a "scalable solution" for reducing vehicular emissions in cities. The company listed on the NASDAQ in 2021 to seek the investments needed to make this transition possible. The products will go on display at IAA Transportation in Hanover this September.