MAN adds 10.5m and third model to Lion's City e-bus range
By Jim Gibbins - 3rd October 2022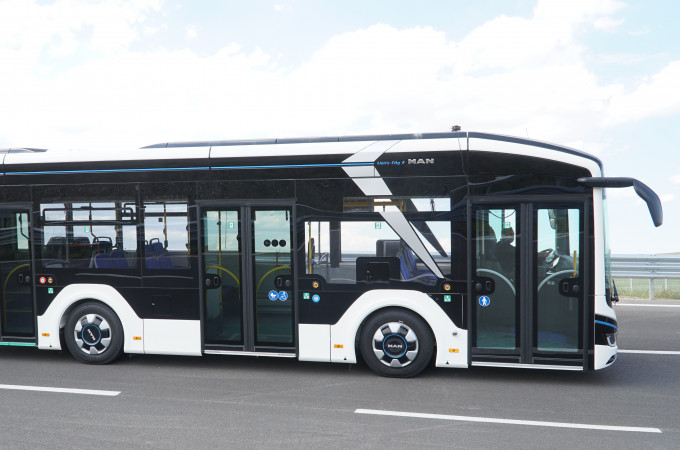 Germany - MAN Truck & Bus SE in Hanover at IAA Transportation this month announced the introduction of the Lion's City 10 E to complete its Lion's City E electric bus series. This electric bus model is a shorter midi bus version of the current Lion's City E Series 12.2m and 18.1m models, measuring 10.5 metres in length.
As with the other MAN eBuses the fully electric Lion's City 10 E city bus uses the NMC group battery packs and can have a battery capacity (five packs) of up to 400 kilowatt hours (usable 320 kWh, corresponding to a depth of discharge of 80 percent based on a maximum-range strategy) giving a range of up to 300km. It also has the same central electric MAN PSM (permanent-magnet synchronous machine) motor with peak output is 240 kW (326 hp), with a continuous power operation of 160 kW (217 hp). A single-stage adapter gearbox means power delivery is infinitely variable without disruptive gear changes.
The basic dimensions and characteristics of the electric bus series in the 10 E model remains the same as the two longer models, with the width, height and overhangs being untouched; as is the engine tower free rear, which provides four more seats to give a maximum of 33 seats and 80 passengers in total.
The body has been shortened between the axles by removing a window module, resulting in the length of 10.5m and a weight-saving of around 350kg. The wheelbase has also undergone a significant reduction from around six metres to 4.40 metres, so benefitting the turning circle, reducing it to what MAN is claiming  a record-breaking 17.2 metres.
As with the two other models, it also features the independent wheel suspension and 56-degree wheel steering angle in the 275/70 R22.5 format, which is typical for city buses, together with a full complement of safety systems such as ESP, turn assist with active warning, daylight bright LED headlights and the camera-based MAN OptiView mirror replacement system.
There is still space for a wheelchair or pushchair in the standing platform and a third door is also possible, but at a loss of four seats to 29.
The Lion's City 10 E is fitted with a sustainable air-conditioning system, which uses climate-neutral carbon dioxide (R744) refrigerant instead of the conventional refrigerant of R134a. The system is able to operate over a wider temperature range than conventional heat pumps and works in temperature as low as -20 °C in the winter. This system has been available since mid-2022 and comes as standard on all new eMidibus vehicles.
The 10-metre eBus, like the 12-metre and 18-metre versions, is charged at the depot via a CCS connector up to 150 kW. A full charge with four battery packs therefore takes less than two and a half hours to complete; buses with five packs need around three hours. Ideal as a quick replacement vehicle or for short city centre routes.
Production is set to start at the Polish Starachowice plant at the beginning of 2023. It will be built to the same high quality standards as all other MAN city buses, stated MAN Truck & Bus, including the CDP primer used for optimal corrosion protection.