Mercedes-Benz do Brasil appoints new Director of Truck and Aggregate Production
|
By Jim Gibbins - 20th November 2023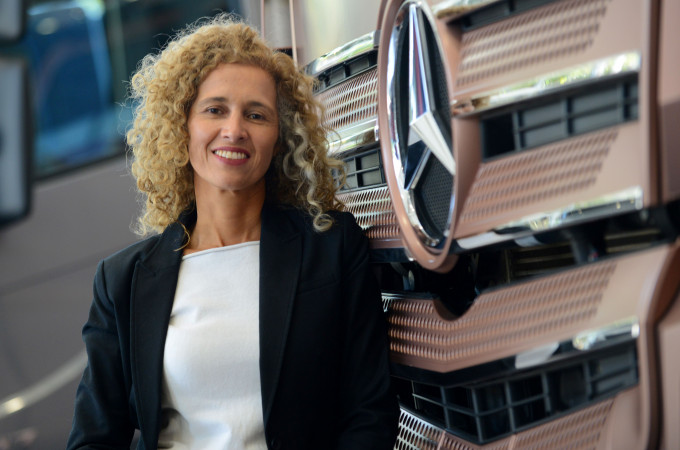 Brazil - Mercedes-Benz do Brasil Ltda, manufacturer of trucks, bus chassis and components (also referred to as aggregates such as transmissions, engines and axles) of São Bernardo do Campo, São Paulo, has appointed Erica Correa Daumichen, as its new Director of Truck and Aggregate Production. As of September 1, she is responsible for the operations of the 4.0 factories in São Bernardo do Campo (SP) and Juiz de Fora (MG).
With more than 25 years of extensive automotive experience, Erica holds a degree in Production Engineering from FEI and a postgraduate degree in Business Administration from FGV. In her most recent position as director of Vehicle Systems Manufacturing Engineering at General Motors América do Sul, she led the general assembly, painting and automation teams, in addition to supporting activities related to the planning and control of the vehicle production program, safety, continuous improvement of processes, quality, sustainability and innovation.
Correa Daumichen replaces Celso Salles, current director of Production Trucks and Aggregates, who has retired.
About Mercedes-Benz do Brasil
With 67 years in the country, Mercedes-Benz do Brasil is one of the oldest and largest manufacturers and exporters of trucks and bus chassis in Latin America. It has production units for trucks, bus chassis and components in São Bernardo do Campo (SP) and truck cabs in Juiz de Fora (MG), in addition to the Parts and Customer Services unit, Parts Logistics and Global Training in Campinas (SP).
In 2018, the Company inaugurated the first line of trucks in the 4.0 concept in the country and that same year, launched its Proving Ground, the largest in the Southern Hemisphere for commercial vehicles.
In 2019, in the second phase of Industry 4.0, the company started operations with a new line of cabins and launched the Actros, the smartest, most connected, efficient and safest truck in the country.
In 2021, the first Mercedes-Benz electric vehicle in Brazil was presented, the eO500U urban bus chassis, in addition to other launches, such as the extra-heavy Arocs, a truck intended for mining and heavy civil construction.