JBM aims to break into the European bus market at Busworld
|
By Luke Willetts - 9th November 2023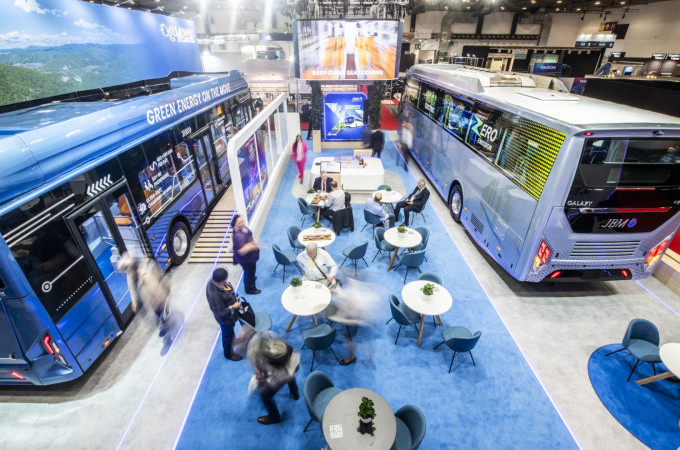 Belgium / India – JBM Electric Vehicles, a subsidiary of JBM Auto Ltd (JBM) of Gurugram (New Delhi), unveiled two new e-buses on its stand at Busworld Europe. Designed for the European market, the company displayed its electric city bus, the Ecolife and its luxury coach, Galaxy.
A press conference saw Mr. S.K. Arya, Chairman and Mr. Nishant Arya, Vice Chairman of JBM Group, unveiled the vehicles. The executives stated that the company has a capacity to produce 20,000 buses a year and that currently it has over 5,000 buses in service across India. Both buses on display featured ZF axles and Wabco braking systems.
The Galaxy is a 12.4-metre-high floor electric coach with a 60-passenger capacity. Minimal information was made available on its electric drive train. The 12-metre Eco-Life, which is available in both low-floor and low-entry versions can accommodate 63 passengers. Both buses are equipped with Advanced Driver-Assistance System (ADAS) technology, Advanced Emergency Braking System (AEBS), Lane Departure Warning System and Blind Spot Detection capabilities.
Nishant Arya, Vice Chairman & MD, JBM Group said:
Our mission is to decarbonise city & intercity travel by creating new and sustainable global benchmarks. We are delighted to offer clean, silent, energy-efficient and sustainable public transport solutions. Owing to our expertise and experience in deploying electric mobility solutions in various parts of the world, here at Busworld, we have launched 2 new products that are a true testimony of our commitment towards the European market. Both Ecolife and Galaxy have been designed to offer safe and hassle-free services, thereby, delivering optimum total of ownership to the customer.