'Strategic Plan 2025' - Barcelona's ambition for a zero-emission fleet
By Will Hall - 13th June 2022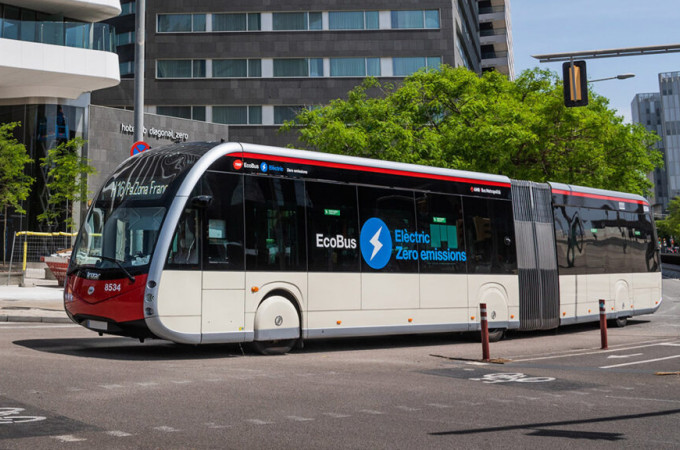 Spain – Barcelona's main public transport operator TMB (Transports Metropolitans de Barcelona) has notably purchased vehicles with alternative powertrains from multiple OEMs since the launch of its 2025 decarbonisation strategy in 2021. The operator has recently ordered CNG vehicles from Evobus and MAN, electric buses from Irizar, BYD, and Solaris, and hydrogen fuel cell vehicles from CaetanoBus. However, the purchase of vehicles with varying fuel systems from different OEMs brings questions surrounding which direction TMB will take next.
Under TMB's "Strategic Plan 2025", 100% of vehicle purchases by TMB will be low-emission vehicles, with 62% of them expected to be zero-emission. This exceeds the guidelines of the European Clean Vehicles Directive that established quotas of 45% and 22.5% respectively in 2019. Barcelona's transport agency will add 508 'clean' vehicles to its bus fleet, with around 230 expected to be battery electric, 50 to be powered by hydrogen fuel cells, and over 150 running on natural gas. Importantly, the operator intends to supply all its vehicles with green energy. The plan also lays out an interim target in 2024, where TMB plans for all of the city's standard and articulated vehicles to be 100% electric, hydrogen, or CNG. Currently, this figure stands at 75%.
TMB has recently launched its largest-ever tender for electric buses in Barcelona with a budget of EUR58.3 million. The competitive tender will seek a supplier for up to 83 battery electric buses to replace an aging fleet of diesel vehicles in 2023. Of these, between 45 and 63 units are to be 12m buses, with an additional 20 articulated vehicles.
To support the uptake of zero-emission vehicles, Barcelona is host to the country's first public hydrogen refuelling station on a 5,000m² plot of land in Zona Franca. At a cost of EUR14.3 million over the first ten years of on-site hydrogen production, the station will refuel the city's hydrogen bus fleet while also being available for private use. To make use of the refuelling station, TMB in November 2021 took delivery of eight Caetano H2.City Gold 12m hydrogen buses as part of a EUR6.4 million investment made in September 2020.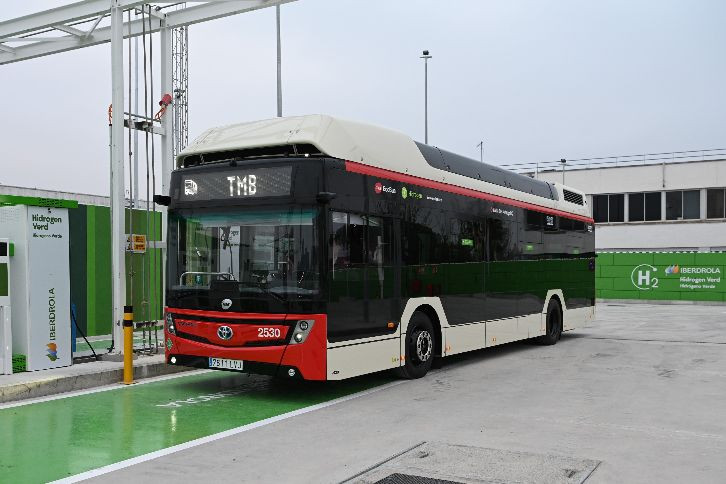 CaetanoBus H2.City Gold at the Iberdrola hydrogen refuelling station in Barcelona's Zona Franca
The H2.City Gold is a three-door, 12-metre variant with a 60kW Toyota fuel cell, with the five onboard hydrogen tanks storing a maximum of 37.5kg of hydrogen. The motor, provided by Siemens, delivers a maximum output of 180kW, and is supported by a Siemens inverter. The hydrogen system is also complemented with an LTO-type lithium-ion battery with a capacity of 44kWh, storing energy generated by the fuel cell and the regenerative braking system.
The first of these vehicles recently entered service in April 2022, with another four having entered service in May. Since January 2021, the hydrogen bus had been involved in an extensive test period without passengers. Each day, the bus will be supplied with around 20kg of green hydrogen from the city's refuelling station in Zona Franca, close to the bus depot. The test bus is operated by TMB but owned by Iberdrola, the manufacturer of the hydrogen refuelling station, which has received a grant from the Connecting Europe Facilities for Transport program of the European Climate, Infrastructure and Environment Executive Agency (CINEA). TMB's adoption of hydrogen buses and the necessary refuelling infrastructure has also been supported by the European Joint Initiative for hydrogen Vehicles across Europe 2 (JIVE 2) programme. JIVE 2 has received significant funding from the European Union, with a total budget of EUR224.5million.
The TMB2025 plan expects 65% of journeys in Barcelona to be made by public transport by 2025. A further objective is to reach 2.3 million journeys per weekday on the bus and metro networks, a 10% increase over the record high in 2019. The targeted result of these efforts is to reduce the city's carbon dioxide emissions from public transport by 17,000 tonnes by 2025.
The Power & Propulsion Systems division of BAE Systems Inc, based in Endicott, New York, USA, is a component supplier that has taken advantage of Barcelona's willingness to test multiple different powertrain solutions for its fleet of vehicles. The company has already powered 50, 12m buses that are currently on the road in Barcelona with its Series ER hybrid drivetrain. In addition, the firm is expected to supply a further 87 buses with its Series ER platform that are scheduled for delivery later this year.
With 2025 approaching, what remains to be seen is Barcelona's long-term strategy towards zero-emission public transport. If the operation of its eight hydrogen fuel cell buses continues to go well, will the city invest in more, expensive hydrogen infrastructure while also spending on electric chargers and overhead catenaries? It is not yet clear which powertrain solutions will be best suited to TMBs's operations; in the meantime, the city continues to lead the country's push to zero-emission public transport.