Iveco eDaily debuts at the UK CV show
|
By Luke Willetts - 22nd May 2023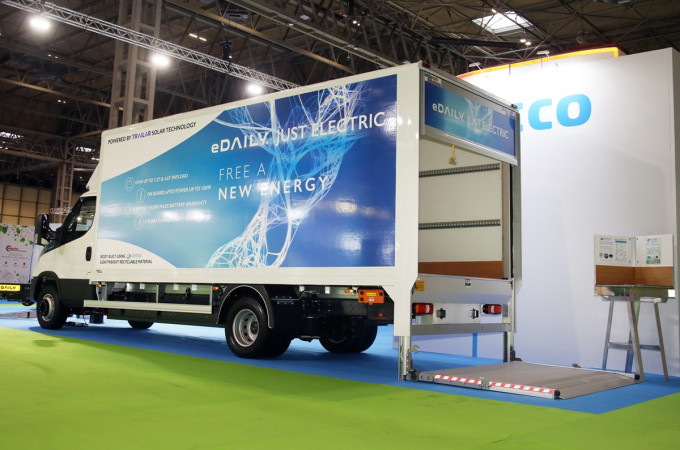 UK / Italy – Iveco Ltd of Basildon, the UK sales subsidiary of the Italian, Turin-based  Iveco Group, debuted the latest generation of its battery-electric Daily, the Iveco eDaily, at the Commercial Vehicle Show (CV) Show in Birmingham, UK from the 18th to the 20th of April.
Payload
This vehicle has been pitched as the electric twin of the traditional standard Daily, which means the same body shape, driving ability and load capacity as the diesel models. The heaviest 7.2-tonne model will offer up to 19.6 cubic metres of loading space, a maximum payload of 4.6 tonnes and a towing capacity of 3.5 tonnes. Iveco claims that this electric Light Commercial Vehicle (eLCV) has the tightest turning circle amongst its peers. There are lighter variants weighing between 3.5 and 5.2 tonnes gvw, but these models have lower payloads with the entry-level eDaily able to carry a maximum of 2.2 tonnes. The 4.25-tonne vehicle has a payload of 2.7 tonnes. Every version of the van uses the same rear-mounted electric motor with 190hp and 400Nm of torque.
The T&BB team were able to sit down with Mike Cutts, Iveco's Light Business Line Director, at the 2023 CV Show, to discuss the launch of the eDaily. Cutts thinks that the large towing and payload capacities will allow Iveco to gain some market share due to its capabilities. He also mentioned the upcoming legislation effectively banning the sale of new diesel vans come 2035. Cutts added that EVs do not necessarily mean compromise and hoped that displaying the vehicle at the CV show would allow clients, journalists, fleet operators and the general public to see that.
Cutts said that "the class-leading capabilities of the Iveco eDaily will enable more operators to go electric, even when undertaking the most challenging of missions. It retains the rugged DNA of the Daily but delivers on decarbonisation."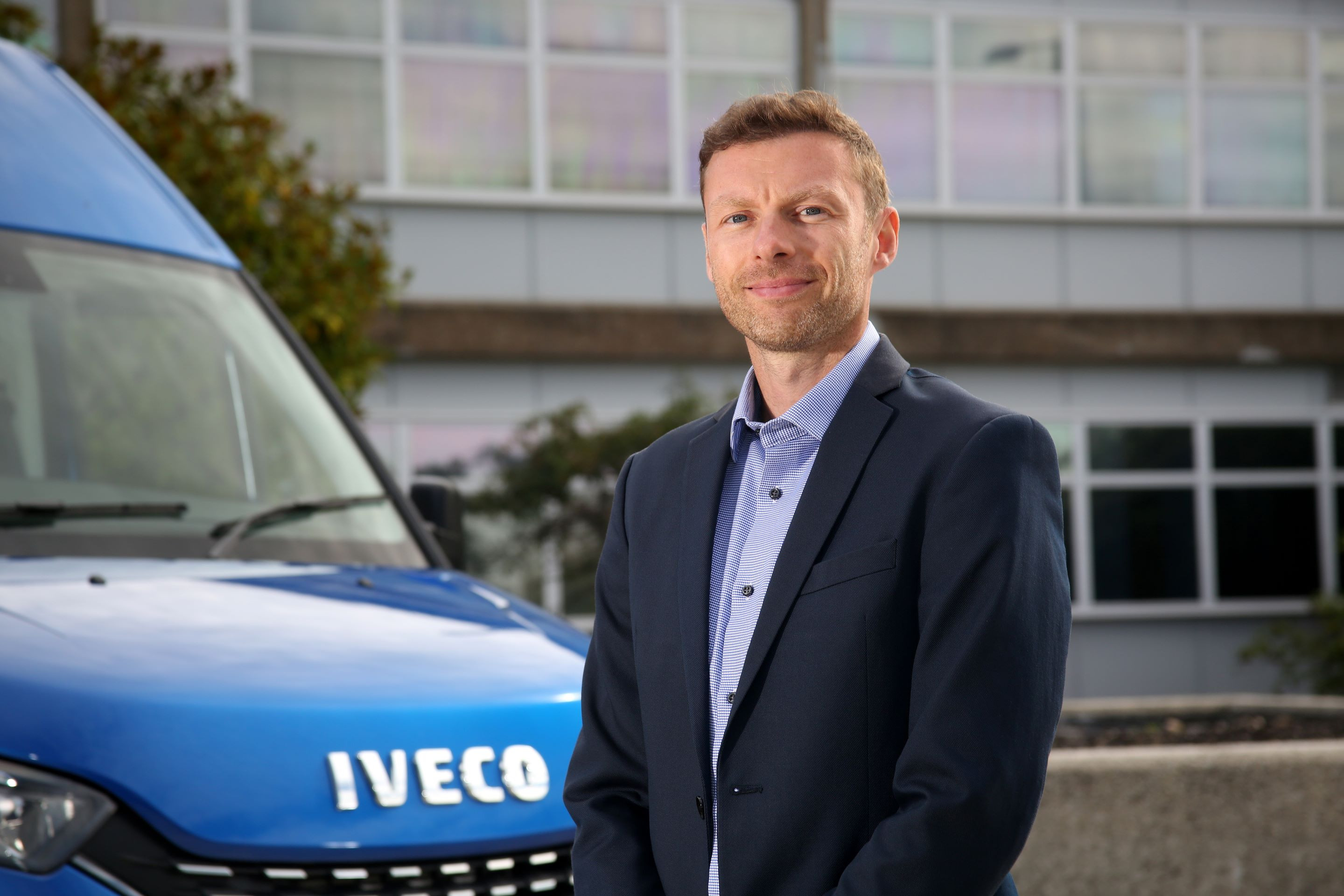 Mike Cutts, Iveco's Light Business Line Director
Batteries
The company has made use of a modular battery system that allows the owner to add and remove battery capacity to suit the changing needs of their business. Iveco claims that this process takes around 2 hours at any Iveco dealership. This flexibility is a key advantage for operators as these various battery options offer operators a multitude of applications. Operators can choose to install one, two or three 37kWh battery units, meaning you can have a van with a 37kWh, 74kWh or 111kWh battery capacity. This will provide a maximum of 248 miles (400km) on a single charge with the latter option as the eDaily allows for rapid charging of up to 80kW, enabling 62 miles (100km) of range to be added in 30 minutes. The batteries are guaranteed to retain 80% of their capacity for eight years or 155,000 miles (250,000km).
Features
A new and attractive feature of the vehicle is the ability to use its battery to power tools or run specialised vehicle bodies like refrigeration units, rubbish compactors and even life-saving equipment aboard ambulances. This is down to the eDaily's three ePTO options, designed to suit differing applications. A low-voltage 2.5kW ePTO and a mechanical 15kW ePTO are also available that can power pumps for cranes, aerial platforms, or other heavy-duty lifting equipment, which can run when the vehicle is switched off. Iveco says the eDaily's batteries will manage any additional load intelligently.
Government incentives
The launch of the eDaily coincides with a new GBP 110 million scrappage scheme from Transport for London (TFL) encouraging the transition to zero-emission vehicles by enabling owners of 3.5-tonne diesel vans that are Euro V and below to scrap them in exchange for a GBP 7,500 contribution towards an electric mode. Iveco is offering an extra GBP1000 on top of TFL's scrappage incentive potentially providing a total of GBP8500 off the retail price of the electric model.
Charging partner: Pod Point
Iveco also announced a UK partnership deal with electric vehicle charging manufacturer, Pod Point Ltd* based in London, to supply eDaily customers with the necessary charging equipment on a referral basis. Once referred, Pod Point will offer Iveco eDaily customers discounted prices on AC charging equipment (7kW up to 22kW chargers using either a Solo 3 or Twin charger). Pod Point will not only offer individual buyers the opportunity to purchase its Solo 3 home chargers but will also handle the necessary installation, maintenance and servicing of these charging units. Furthermore, twin chargers will be able to be installed in car parks, depots and loading bays servicing the needs of commercial fleet operators and providing a reliable way to recharge fleets.
Cutts said: "Pod Point has been supplying reliable EV charging since 2009. This vast experience made it an obvious choice for our preferred supplier. Customers will benefit from this and the one-stop-shop solution Pod Point offers – making EV adoption even easier."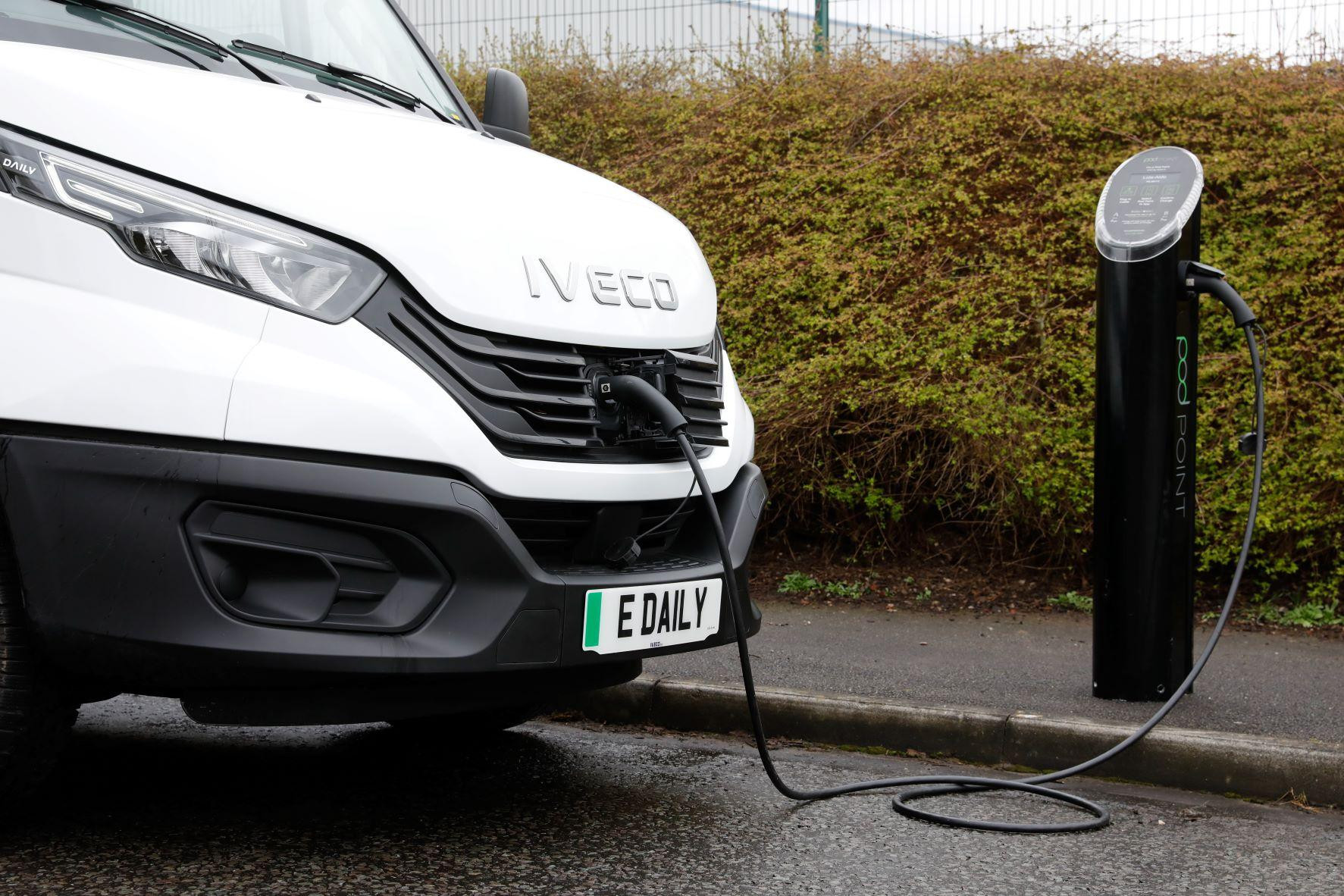 Iveco eDaily using a Pod Point EV charging unit
Connectivity capabilities
Fleet customers can also benefit from an array of connected technology services as all models come with the four-year eStart package, including Iveco On Access vehicle activity reports, Uptime Monitoring & Management, eRange Assurance and eRemote Control. All of these features essentially help clients maximise range and efficiency and decrease vehicle downtime through leveraging data.
Mike Cutts continued: "The Iveco eDaily's high degree of connectivity means that operators will be better informed about vehicle performance than ever. Better planning leads to better efficiencies, and so having intelligent eDaily tools at your disposal will make a big impact for customers."
Price point
Prices start at GBP 60,000 and climb all the way up to GBP 110,000 depending on size and battery configuration. Whilst certainly not cheap, Cutts said that he expects operators to save money in the long term.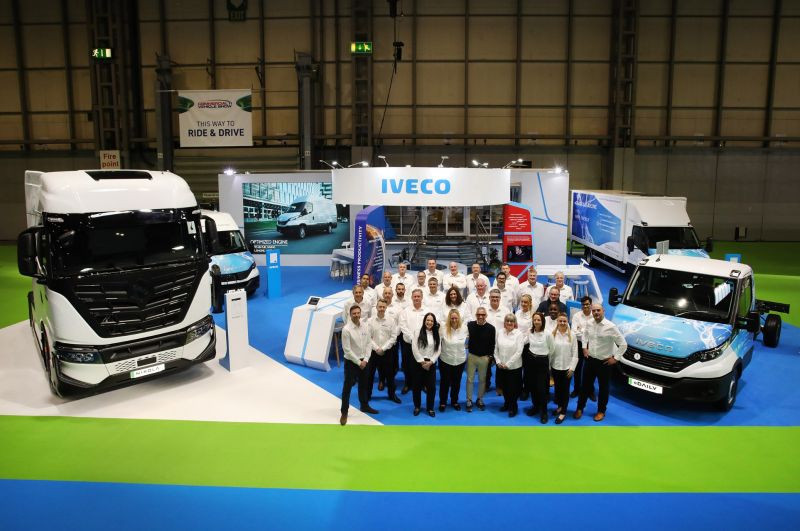 Iveco team at the 2023 CV show
*Pod Point is a UK provider of electric vehicle charging equipment formed in 2009. They have manufactured and sold over 195,000 charging points across the UK and also developed an extensive public network connecting EV drivers with 8,200 charging bays at locations including Tesco, Lidl and Centre Parcs. They have worked with automotive brands including Audi, BMW, Mercedes-Benz, Hyundai and KIA.