Daimler Truck unveils long-haul electric truck with 500-kilometre range at IAA
|
By Bradley Osborne - 26th September 2022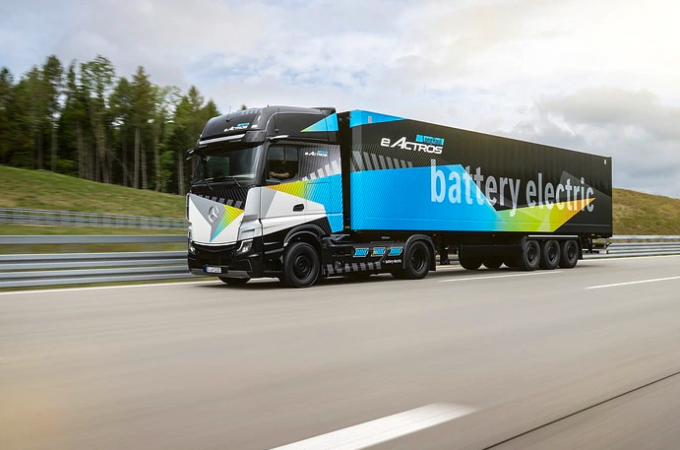 Germany – Daimler Truck AG of Leinfelden-Echterdingen, Baden-Württemberg unveiled the 'eActros Long Haul', a battery-electric truck capable of travelling 500 kilometres on a single charge, at a pre-conference event in Hanover on 18 September. On the following day, it was awarded the '2023 Truck Innovation Award' by the International Truck of the Year jury.1 
The new truck was presented alongside a tractor version of the eActros 300, an electric truck line which is already available as a rigid. The tractor unit, capable of a range of up to 220km, will enter series production in the second half of next year. These models are suitable only for regional distribution, whereas the eActros Long Haul is designed, as the name suggests, for longer journeys. 
Key to achieving this significant expansion in range is its two axle motors, providing a peak output of over 600 kW, and three battery packs with a combined capacity of over 600 kWh. Daimler Truck has opted for lower density, lighter weight lithion-iron phosphate (LFP) batteries supplied by Chinese manufacturer CATL. These can be recharged very quickly: with a megawatt charger, the charge level climbs from 20% to 80% in under thirty minutes. 
Daimler Truck is currently testing the first prototypes, with on-road testing to begin shortly this year. Next year, the first customer pilots will commence, in anticipation of series production the year after. These trucks will be the very first electric vehicles to be assembled entirely at the Wörth am Rhein plant in parallel with diesel vehicles; other electric truck lines have so far been shipped off to the company's nearby 'Future Truck Centre' to be fitted with e-powertrain components. 
The eActros Long Haul will be available at launch as a rigid truck and as a tractor unit. 
1 The jury is made up of 25 prominent commercial vehicle journalists from around the world.